Who Is Kymmberly & Why Should Anyone Care or The Story of Business, Bacon & Books And How They Rock
(The Loooong Version)
Hi I'm Kymmberly


I'm a DoOver & Accountability Coach who lives a
Proverbs 31 Home Based Lifestyle
and advocates the same
for Moms, Dads, Boomers,
Late Bloomers, Under Achievers,
& Couch Potatoes.

Also a Proud Family Empowerment Advocate

I'm also sometimes known as: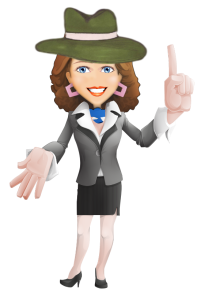 Kymmberly ~ Woman On A Mission
What do I stand for & believe in?
God 1st~Family 2nd~Then Business. Business. Business
I ♥ Business & everything about it. I live to Love business.
I LOVE bacon-almost as much as business. I probably should have gone into the bacon business, but there is not much call for paying people to eat bacon, no matter how effusively they can do it… just sayin.
I love Books. Especially books about business. I also love children's books. Not cheap children's books…but real good children's books.

But mostly, just books about business and almost everything that pertains to business.
I'm writing one right now. A book. A business book about business.
(Sometimes, I eat bacon while I think about what to write, but who wouldn't, right?)
Anyway, I'll let you know when it is finished, so you can buy it. I'll want you to.
Buy it, that is. That way I will be able to bring home MORE bacon. (that was a good one, wasn't it?)

Business, Bacon & Books…Rock
I also love humor.

A sense of humor is a must in a healthy life and if you don't have one,
you need to go GET one, 'cause you won't last 15 seconds around me
without one, and you really DO want to hang around me, cause I've got "the stuff."
The Stuff you need to know about Business especially a home based one.
My Passions & Purpose Include:
being a Live Life "On Purpose" Advocate,
helping to Build Empowered Families,
creating Healthy Boomers who Live Young, Long, & Prosper
teaching YOU to Know Your Worth, and to BE what
you were created to BE so you can
DO what you were created to Do in order to
Live Life By The Book & on Your Terms
(which [here on my site at least] are God's terms- not the world's broken messed up terms) and God's terms are gonna be best anyway
I teach PAUSE. It's my system for success in life and I am sold on it.
Purpose
Abundant Finances
Unwavering Faith
Strong Family & Self Awareness
Empowered by the Actions from their combined strengths
as the building blocks for
success in life,
an empowered Family &
a strong community
…and a strong empowered community is not only
a better community but one that can CHANGE THE WORLD.
My Mission & Vision
My mission is to
"Change the World. One Person, One Family, One Business at a Time"
I expect to make a difference in this world by "living, breathing and DOING" my purpose with passion, and helping others to discover & do the same with theirs.
It is my belief that this will bring on the realization of my vision, which is a world full of happy healthy empowered people living "Life By The Book" and doing what they were created to Do, because they know who they were created to BE.
[ My mission and vision are VERY important parts of who I am and why I do what I do, and while I do see humor in almost everything and it's hard to squelch the twinkle in my eye,
I also thoroughly believe that there is a line that separates being a serious person and treating something seriously, and that is where my mission and vision sit.
Bottom line: I am quite serious about them both, because when
I finally DO accomplish them, the world will hear more laughter
while it sees a twinkle in almost every eye.

(see how I did that-brought them both full circle?) ]
So, If you've read this far (you are my Hero), if living by default has not worked well for you, and you want to make the changes that will get you the life you were born to live , then let's get together and see if what I do can work for you.
Life. On Purpose. With SPICE. By The Book. Let's make it happen together.

Know. Be. Do. Bless
Go, and make it so!
P.S Have you tried Maple Bacon? Tastes like candy. Pop over to YouTube and check out the channel "The Stay At Home Chef". She has a Spicy Maple Candied Bacon recipe that ROCKS